So, you've arrived at a moment in your life where you've realized you can no longer keep up with the effort required to propel a manual wheelchair all day. Or, perhaps you still walk, but with your active lifestyle, a power scooter will help you maintain the energy level you need for your busy schedule, out and about.
Electric wheelchairs and power chairs are a bit more expensive than manual wheelchairs. This makes sense because of the engine and technology installed in these mobility devices.
Therefore, shopping for an electric wheelchair or powered scooter requires research to find the device you need, with the features you want, at the best price you can afford to pay. Research is king. The good news is, I've assembled a list here for you that will save you time hunting, so you can spend more time evaluating products.
1. Quickie XTender Power Assist
First on the list is a review of Quickie's Xtender Power Assist. Before we get into the powered chairs and scooter devices, take a look at this product because it is an abbreviated upgrade that adds power to a manual chair.
Perhaps you are used to your manual chair and want to simply add "just a little more" powered assistance to make life easier for you. The Quickie Xtender is designed for that intermediate step before you make the big investment in the scooters and power chairs.
In short, the Quickie Xtender product is a set of powered wheels that you buy to replace your manual wheels on your manual chair. Read the full article to dive a little deeper into how it works, and see if it is right for you.
2. Go-Chair Travel Power Wheelchair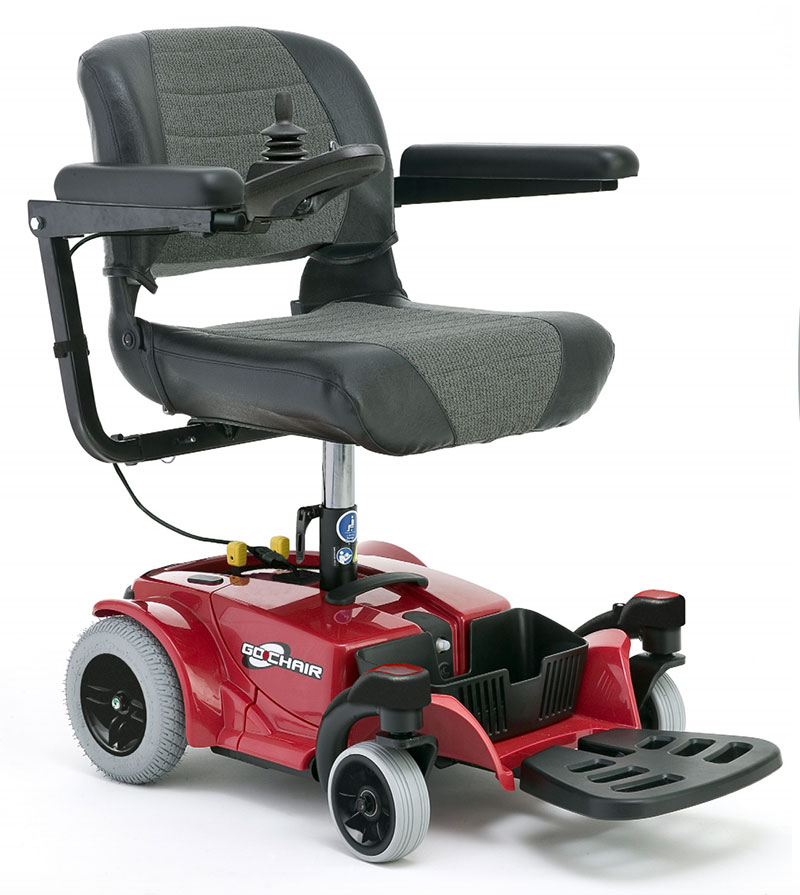 I've written a more detailed review that you can read if you follow the link. In summary, this is a chair set upon a motorized base. The full review lists pros, like easy to use and comfortable cushions, and cons, like a little difficult to maneuver on rugs. More »
3. Video Demonstrations of Power Wheelchairs and Equipment
There are so many options in this category. To some, this may seem overwhelming. I've always preferred to have more choices, not fewer. All you have to do is put in the time to research and evaluate.
In this article, you'll find great resources for evaluating, and weeding out many options, in a few minutes. Yes, minutes!
There are more and more video demonstrations posted on YouTube now. Marc's Mobility does a good job, and there are others. The experts show you how to use the particular model they are demonstrating. You'll see how fast it drives, how well it maneuvers, and sometimes even how quickly it assembles and disassembles for travel.
4. Youtube Video Demonstrations of Powered Wheelchairs
The link to this article does the same as the one above it but adds an additional list of models for your review. Between the two articles, you'll have links to roughly 20 demonstrations. Some of them even include accessories like lifts that raise your scooter or power chair into a van, for example.
5. Save Money with Pre-Owned Manual and Electric Wheelchairs and Scooters
And finally, don't resign to the belief that your purchase must be a new product. There are dealerships specializing in gently-used and remanufactured power chairs and scooters. The articles above will take you to video demonstrations of them too. It's a great service to the shopper because you get to save some money and still see how well the reconditioned or used model rides and turns. You may not be missing out on any functionality or comfort while saving a few dollars!