What is a Travel Power Wheelchair?
A travel power wheelchair is a mobility aid for a disabled person who needs and wants to maintain their freedom to travel. Travel could mean in a car to the grocery store, the movie theater, or a restaurant, or it could include air travel to visit a friend or a to take a vacation.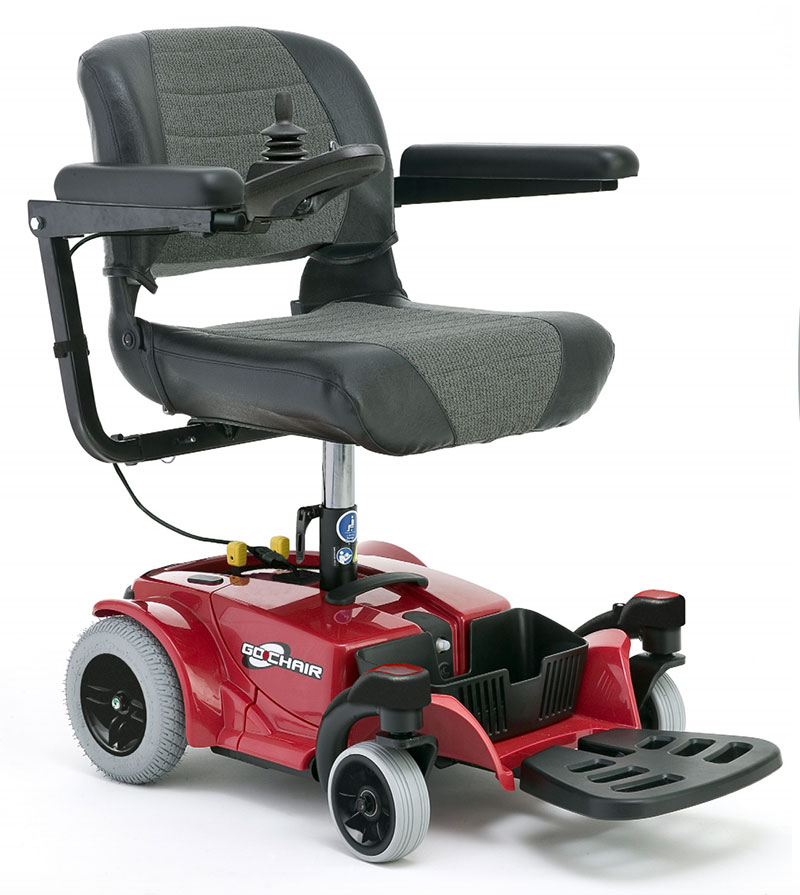 Pride Mobility makes an assortment of powered chairs, wheelchairs with motors essentially, that can allow people to go even further without the worry of getting tired while using a manual wheelchair.
This category of a wheelchair, the motorized chair, can be quite a bit more expensive than a manual wheelchair, so here is an in-depth look at the Pride Mobility Go-Chair Travel Chair. This review will give you some features, benefits, and costs to consider when making a decision.
Summary of Features
The battery will last for up to 8 miles
The Go-Chair Travel Power Wheelchair will support a person who weighs up to 250 lbs.
The chair's top speed is 3.5 mph
Tight turning radius, which comes in handy when maneuvering indoors
The Go-Chair weighs 130 lbs
The chair disassembles into 4 pieces so that you can fit it in your car and take it to the shopping mall or the grocery store for example
Price includes 1 Year Labor Contract + Free Shipping
Product Overview
Pride Mobility's Go-Chair is a power chair designed for travel.
The chair can be disassembled into four pieces within a few minutes. This makes it easier to get the parts to fit properly in a car, van, or truck.
You remove the battery pack, and then the frame can be knocked-down into the remaining three parts.
The Go-Chair is powered by twin motors to take the driver up to 3.5 mph. This may not seem very fast, but it's all about the traction. The twin motors will take someone up a hill, and the chair maneuvers well in all cases.
Detailed Specifications
For those of you who like to compare the details when you shop, here are the sizes and materials you'll be interested in.
Weight Capacity: 250 lbs
Seat Type: Padded, vinyl seat
Seat Color(s): Black and grey seat
Seat Material(s): Vinyl coated seat
Arm Rest: Padded, plastic armrest
Standard Seat Width: 18″
Standard Seat Depth: 18″
Back Seat Rest Height: 12"
Ground Height Clearance: 1.75″ ground clearance
Battery Range Per Charge: 8-mile battery capacity
Maximum Speed: 0 – 3.5 mph
Turning Radius: 26.75″ turning radius
Braking System Description: Automatic braking system
Model Number: GOCHAIR
Overall Length: 29″ long
Overall Width: 23.5″ wide
Total Weight: 130 lbs
Front Wheel(s): 5″ solid, flat free tires
Rear Wheels: 8″ solid, flat free tires
Anti-tip Wheels: Yes
Battery Included: Yes
Battery: 12AH battery
Battery Volts: 12 Volts
Battery Optional Sizes: None
Battery Charger: 2 amp off the board battery charger
Body Color(s): Red and blue
Disassembly: The Go-Chair disassembles into 4 pieces
Basket Included: No
Headlight: No
Transportable/Collapsible: Collapses into 4 pieces, and the parts are small enough to fit in most cars, trucks, and vans.
Foldable: The Go-Chair cannot be folded
Warranty:
5 Year Warranty: Covers the following – platform, forks, seat post, and frame welds.
Two Year Warranty: All electronic parts including controllers and battery chargers.
1 Year Warranty: drivetrain, differential, motor, and brakes.
6 Month Warranty: the batteries are covered by a separate 6-month warranty, provided by the battery manufacturer.
Pros and Cons
Pros:
Easy to learn, easy to use.
Our tester found the seat cushions comfortable.
The arms raise easy in to ease access in and out of the chair.
Smooth operation and handling.
Brakes were responsive.
Cons:
It has a little bit of difficulty maneuvering on rugs
The seat cushion is comfortable, the back is soft, but the back feels like it sits a little too upright for long-term comfort