A variety of injuries necessitate using crutches to move around such as a broken leg, a sprained ankle or some sort of leg or foot surgery. Whatever kind of injury it is, if you have to use crutches to get around, they need to be the correct size. If not, you run the risk of falling and hurting yourself worse, so that's why you need to learn how to buy the right size of crutches.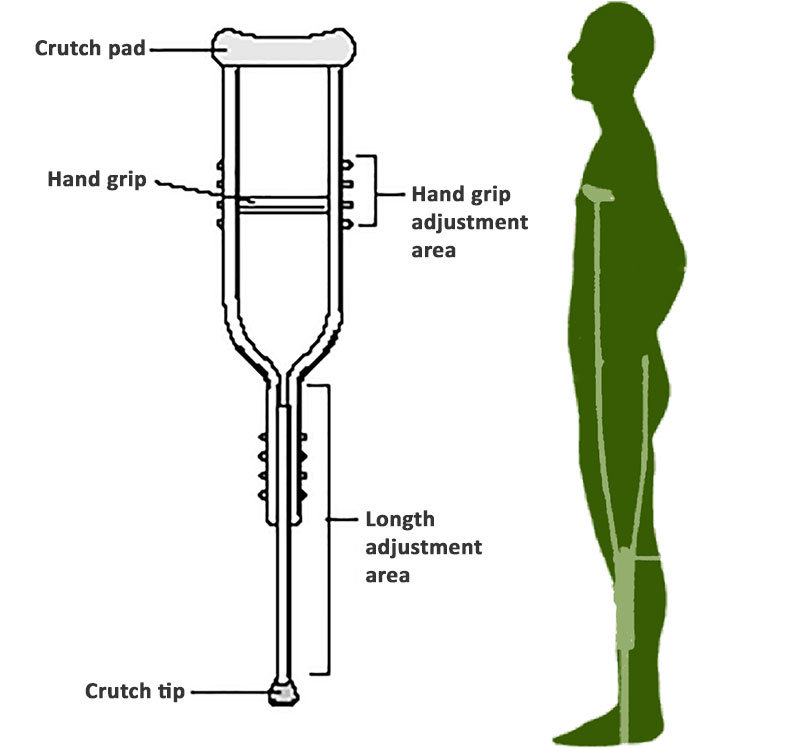 How to Size Crutches
First, when you go to buy your crutches, be sure to wear the same pair of shoes as you expect to wear while using the crutches. Flat, no heeled shoes are best for both comfort and safety. Next, take a pair of crutches and hold them at your sides, making sure the top of each one is about an inch below your armpit.
Then, hold on to the handgrips and make sure that they are at the same level as your hips. Then, bend the elbows a bit and make sure you can still hold on to the grips and not have the crutches stuck straight out. Otherwise, they are the wrong size. Practice walking. Make sure the crutches don't press hard into the armpits.
If you have metal crutches, they may be adjustable, but the majority of wooden ones can't. If it can be adjusted, there is most likely a switch or a button on the crutches that allows you to change the length so you can get it exactly right to fit your height.
Padding is Helpful For Comfort
Another thing to consider is the padding on the crutches that you choose. You may be using them for several weeks, and if so, you want as much comfort as you can possibly get. Therefore, after sizing the crutches up, make sure that the armpit padding is sufficient, or that you can get extra padding for that model of crutches and still maintain the proper sizing.
Choose whichever style, wood or aluminum, which is the most comfortable and fits well and is within the prescription your doctor has written for your condition.
Wrong Crutches Can Make Matters Worse
The important thing to remember from all of this is that you must buy the correct size and style of crutches to fit your height, as well as your physical situation or the problem that you need the walking assistance for. It is vital that you are using the correct size and style of crutches so your injury won't get worse or you won't fall and hurt yourself instead of getting better.
If you are unsure of the kind of crutches that you should be buying, then you should seek the advice of your doctor or physician. The pharmacist at the drug store also may be able to help you to choose the appropriate type and size of crutches that will help you to get around while you heal from your injury.