Christmas is a time when we gather with our family and friends and exchange presents. You likely enjoy giving just the right gift to just the right person. It is just plain fun to see their faces light up as they realize that you have found the perfect item just for them. If your gift list includes someone on crutches this year, here are a few things you can consider for them that will not only make their eyes light up, but also be rather practical for their situation.
Idea#1: Shower Stool
If you have ever tried to take a shower on one foot, you know it is not easy. In fact, it can be downright dangerous, and it can take twice as long. An adjustable shower bench small enough to fit in any shower or bathtub is a great idea for someone on crutches. They can safely sit in the shower and take their time with their daily ritual. To keep their cast, boot or bandage dry consider a latex-free cast protector.
Idea#2: Gift Certificates
Gift cards are great ideas, but the kind of gift certificates you give someone on crutches should be a bit different. Get your creativity out and make your own gift certificates that the person can redeem any time during her recovery process. They should be for things like running errands, cooking meals, driving kids to and from school, doing laundry, and other chores that you think she probably struggles with now that she is on crutches.
Idea#3: Comfy Cozy Cast Toe Cover
It is generally hard to keep toes warm in the winter months even when you can wear whatever you want. Imagine having your toes exposed on the other side of a cast or boot! The toe covers are like hats for your toes. They fit over her toes like a slipper, and the adjustable Velcro strap attaches to itself around the backside of a cast or boot. The toe covers come in black and is washable so they can be worn throughout the recovery process to keep toes warm and dry.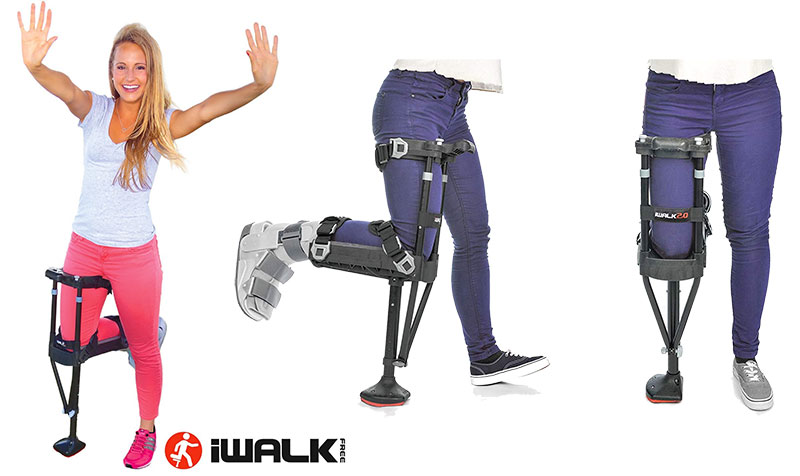 If you have seen the person on your list struggle with her crutches, you might want to include some details on the alternatives on the market in her Christmas card. Take a look at the modern solutions you can rent or purchase and have delivered directly to your home. Solutions like the Hands-Free Crutch, and Knee Scooter, and seated scooter and see which you think might be best for her/his lifestyle.
Idea#5: Activities
If your friend or family member is cooped up at home alone a lot because of the fateful injury, buy her something that will keep her occupied. Think about what she enjoys and try to find her a gift that will give her something to do. That could be anything from a magazine subscription to a TV Series DVD collection. You could even drop a hint about your own gift by getting her materials to make something for others. Here is a list of 20 fun things to do when you are on crutches.
Keep your friend or family member's injury in mind as you do your Christmas shopping. You might normally get her lotion or shower gel, but this year, there are some items that she could really use in order to get through her recovery process. She will likely never forget your thoughtfulness.
Related Posts